Redwood City Rental Equipment
Equipping You for Projects Big and Small
Are you in Redwood City and looking for a company that can provide equipment rentals, sales, or repairs? Look no further than Redwood Rental! Whether you are a homeowner who wants to start on a do-it-yourself project or a contractor who needs heavy-duty construction equipment or tools, we can help. Call our office today at (650) 368-9908 and schedule your free estimate!
Browse our website to learn more about our: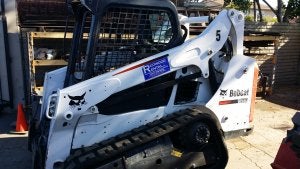 Broad Selection of Tools & Machinery
At Redwood Rental, we rent out a wide selection of equipment, such as Bobcat equipment, forklifts, jacks / lifts, ladders / scaffolding, chain saws, and much more. To make our services more convenient for our customers, we are open on Saturdays, and we deliver equipment Monday through Saturday.
In addition to our rentals, you may also be able to benefit from our equipment repair services. We can repair everything from small electrical tools to hydraulic equipment (such as Bobcat equipment). Our small engine mechanic is an AES Certified Mechanic, and our Bobcat / hydraulic systems mechanic has over 10 years of experience working with Bobcat and hydraulic machinery. We also have a broad inventory of both new and used equipment for sale.
At Redwood Rental, we offer:
Free estimates
An extensive selection of Bobcats
We have Trench Plates for rent
A convenient location
Equipment repair services
Call Redwood Rental today!
You can trust our professionals at Redwood Rental to find you the perfect equipment or to provide you with the right equipment repairs for your next project. You are always our top priority, as 100% customer satisfaction is something that we strive for every day.
Stop by our store today or contact us now at (650) 368-9908 and learn more about the products and services we offer!
Value Statements
A Local Family Owned Business
Extensive Selection of Bobcats
We have Trench Plates for rent
Convenient Location
Equipment Repair Also Available